How do you get investors to trust you?
---
For any investor to invest in a startup, they need to have a lot of trust given the scary statistics on how many startups fail.
You can even divide this trust into two things the investor must believe in: trust in the business opportunity (that the problem you are trying to solve is real, that the market is big enough etc.), and trust in your team (that you have what it takes to deliver on the opportunity).
But there is a big difference between early- and late-stage startups when it comes to how trust is generated. 
If you're a late stage startup, you have a product, users, paying customers and revenue, and a team that have delivered the above. What this means is you have a lot of historic data, that is both quantitative and qualitative, to support your claims. You are able to provide credible answers to tough questions like: What is the cost of getting a customer? How much are they willing to pay? and How big is the market? Real data beats every scenario analysis there is. If you have customers paying, that is proof – and proof generates trust. Of course, they still have to have trust in you and the team, but it's relatively easy to convince investors about the business because you have real data.

But what about an early-stage startup? You might have a beta version of the product, maybe you have some users, but you probably don't have paying customers yet. You've hopefully convinced a few people to join you, but it's likely to be an incomplete team. You have very little performance data; it's all about the future. You're saying, 'I think there's a big market; I think my customer would pay for this cool product if I made it.'
Early-stage startups should of course explain the business and market opportunity, but it's really 80 per cent about you and 20 per cent about the business.
If it's all about trust, how do you get early-stage investors to trust you?
There are two different types of investors: those you already know, and the rest. Perhaps you have an acquaintance, or friends and family, who know you and have the means to invest in you. Great, they know you and therefore trust you (and, if they don't trust you, perhaps you should look in the mirror). Most startups will have to go beyond their personal network and approach investors they  don't know at some point. When they do, they will need to build trust. The key point here is that trust is built over time. You're unlikely to trust a person you have met for half an hour. This explains why you can't expect to get the money on the same day
you meet a potential investor – there's no personal trust. Even if they think you're cool, feel you have what it takes, and you have a great business, the chance you'll get money the same day or the day after you meet is tiny.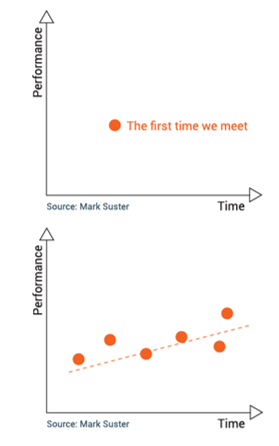 Entrepreneur turned venture capitalist, Mark Suster, from Both Sides of The Table, said, I don'tinvest in a dot, I invest in a line.
Imagine yourself as a dot on a graph with performance on the y versus time on the x. Even if your performance at a given time is good, investors want to see a line so
they can see you at different points in time. Investors look at entrepreneurs they heard about six months ago who had great plans for the future, and when they meet
six months later they may see they're still not quite there yet but the line is going in the right direction.
As Lars Andersen, General Partner in SEED Capital, explains: The most common mistake startups make in relation to contacting VCs is that they make contact too late. Seriously, it's about sticking your neck out there. Your product doesn't have to be perfect. Build a minimum viable product, use it to learn about your customers, and start contacting VCs. We might say that it's still too early, but that doesn't mean never. The now successful wine scanner app, Vivino, had a first productthat was absolute crap, but they gave us something to work from.
This creates a paradox for many startups. You should not count on VC money too early since in reality they invest rather late in the process, but you need to begin building relationships with them early on. They need time to get to know you before they invest their money – just make sure you don't waste too much time
on coffee with VC partners!
What does this mean to startups? You have to build relationships with potential investors before you need the money – you shouldn't wait until you have everything in place. Create relationships now.